luxe gold foil vibes - shop closed (re-opening January, 2024)
The Goddess Aesthetic was a gold foil printing workshop, where we celebrate our love of the language of symbols. It is now a digital gold foil shop. Printing and shipping was fun but it became too much to handle for me. So I have made it easier, lowered the price, and am now offering digital gold foil charts (no physical product)!
Soul + Luxe = You
At the moment you took your first breath, the cosmos aligned.
The whole universe literally exists within you. Celebrate with a custom gold foil astrology chart.
Your astrology chart is where your sun, moon, rising sign and all the other planets in the solar system reside. Your unique alignments represent the energy of your career, love, wealth, health, discipline and more.
Looking for something special for your sanctuary?
Welcome to my little shop of gold foil luxury.
xoAimee
PS. If you're here for an astrology reading, marvelous. Purchase in catalog (above menu).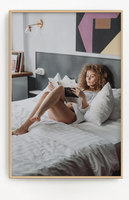 The Goddess Aesthetic
Astrology is a portal to expand your understanding of your life.
Astrology knows no limits, everyone is welcome. Here at The Goddess Aesthetic, we are all about women supporting women.
Everything you see in the shop is imbued with vibe-raising energy (which, incidentally, helps raise the vibe of those around you. You know your crazy sister in law? Get her two.)
While these custom-to-you astrology charts convey tangible beauty, they also act as a call to action to step into your inherent power. 
Aimee's 9 Things
Transform yourself & enjoy your life
Seeking real change?
Energy get's stored in your physical and subtle body.
What do your astrology symbols say about where you're storing energy? 
There are three important astrology pathways for holistic transformation:
1) Your sun sign is your spirit, your heart, what you came here to do. Vitality. 
2) Your rising sign is connected to your auric field and your time of birth. The rising sign is your body temple, your personal appearance and approach to life. Health.
3) Your moon sign is connected to your etheric/astral/emotional body. This is where the patterns get set. The astral body is the seat of the emotions and desires.
Ready for a deeper transformation? Support your souls intentions with a gold foil astrology chart. Your altar says thank you.